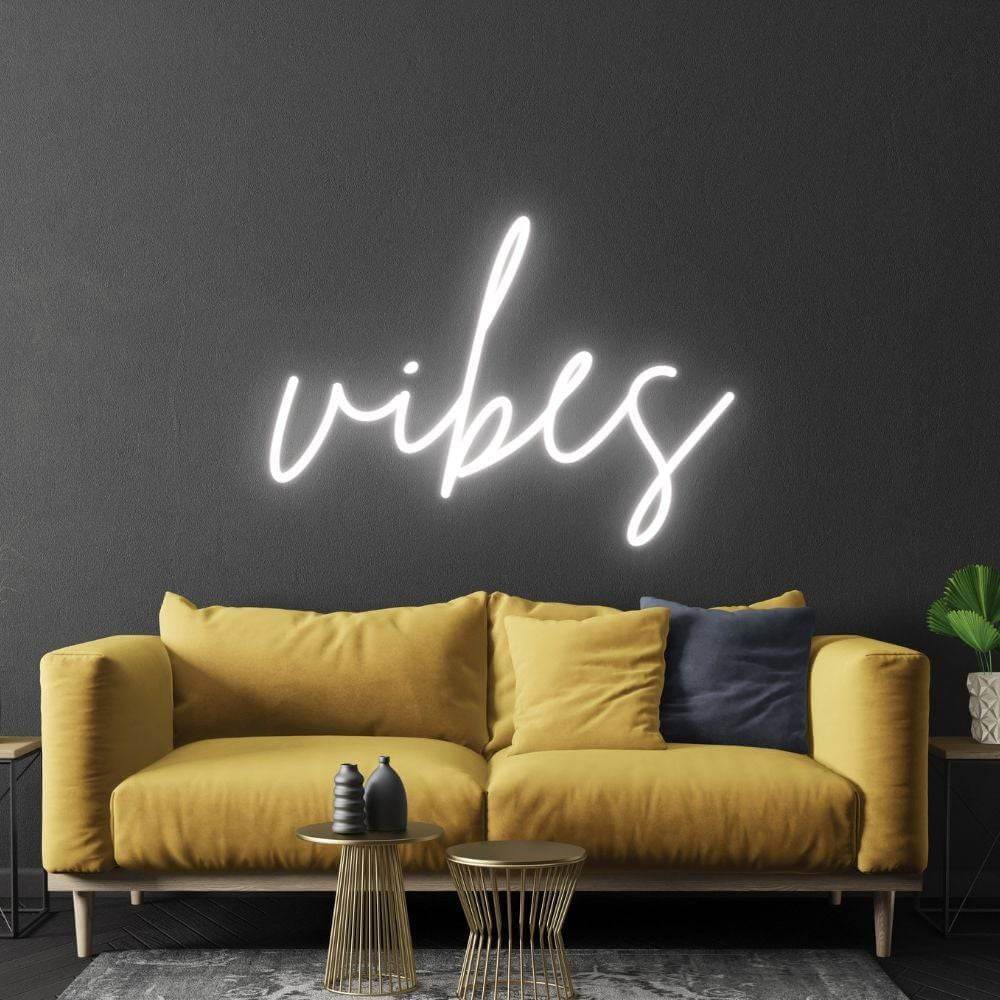 Vibes LED Neon Sign - Made in London Inspirational Neon Signs
---
💡 Luminate your space with our LED Neon Sign - 'Vibe'!  It's the perfect addition to create a relaxing and ambient atmosphere in any room. Carefully hand-made in London with love, this high-quality sign is crafted using top-of-the-line LED chips and rubber neon tubes, ensuring a vibrant and eye-catching display that will make an impression.

🔎And now the details! The 'Vibes' sign is skillfully crafted on a durable 8mm acrylic board, so it's featherweight and built to last. With 12 vibrant colours and different sizes to choose from, you can customise it to match your style and décor perfectly. 🎨📏

✅ Quality is the key!

The 'Vibes' LED neon sign, like every single one of our signs goes through a rigorous quality control process to ensure that you receive a top-quality LED Neon Sign.🏆


🤔 Cut-to-shape or whole-board design?

The choice is yours! The 'Vibes' LED Neon Sign is available in both options. Go for a cut-to-shape design to add a personalised touch, or choose the whole board option for a clean and classic aesthetic. The choice is yours! 🔲✂️

🔌 Customize and create your dream setup with our wide variety of accessories!

Whether you want to control your sign with a Wi-Fi controller or remote dimmer to dim the lights to set the perfect mood or use an AC adapter or battery pack (rechargeable or non-rechargeable), we've got all the options to bring your vision to life and making things easier. 💡⚡

💡Shine bright but care for our planet.

Our 'Vibes' LED Neon Sign is energy-efficient, using up to 80% less energy than standard neon signs. That means you enjoy the mesmerising glow while keeping your energy costs low. It's a win-win situation! 💰🌍

🔧 Worried about installation? Don't be!

Installing the 'Vibes' LED Neon Sign is a breeze. It comes with pre-drilled holes and mounting accessories, or you can use adhesive pads for a hassle-free hanging experience. Plus, our LED Neon Signs are low-maintenance, so you can enjoy stunning visual effects without the need for constant upkeep. Easy-peasy! 🛠️🚀

✨ So what are you waiting for?

Transform your space into into a vibrant oasis with the 'Vibes' LED Neon Sign. With its high-quality manufacture, vibrant colour options, versatile sizes, and easy installation, this sign is guaranteed to enhance the ambience of your environment. Choose the 'Vibes' LED Neon Sign today and make a lasting impression with its captivating glow.