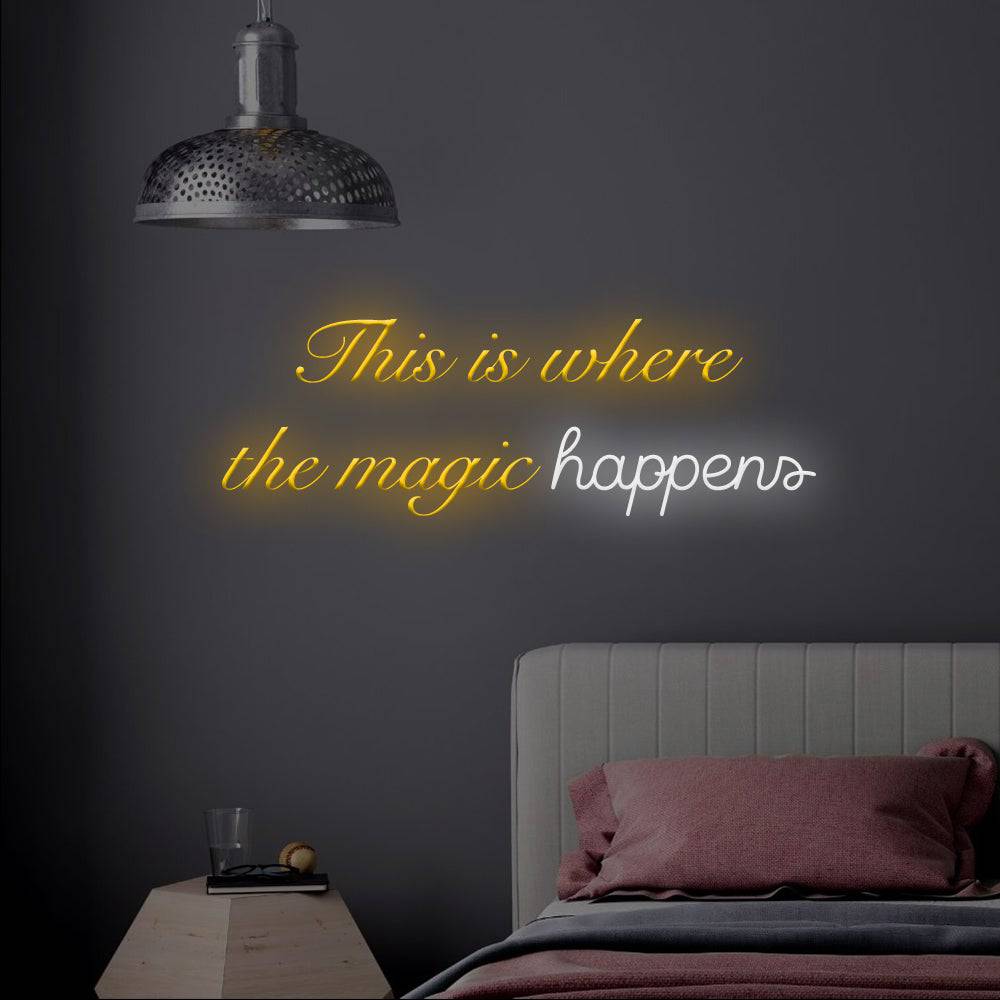 This is Where the Magic Happens LED Neon Sign - Planet Neon Made in London Neon Signs
---
💡 Cast a magical glow with our LED Neon Sign - 'This is Where the Magic Happens'! Effortlessly creating a serene and cosy environment in any setting. Expertly hand-made in London, this sign is made to perfection. The cutting-edge LED chips and rubber neon tubes harmoniously combine, producing an impressive, eye-catching display that captures hearts.

🔎 Attention to detail matters! 

Our 'This is Where the Magic Happens' sign is carefully created on an 8mm acrylic board, embodying the perfect lightweight and durable blend. Revel in the wide spectrum of 12 vibrant colours and sizes available, allowing you to tailor your creation to suit your unique taste and decor. 🎨📏

✨ Quality shines as bright as our signs!

Our 'This Is Where The Magic Happens' LED neon sign similar to all our LED Neon Signs is getting a thorough quality control check before leaving our warehouse to ensure you get a high-quality sign that will last.

🔨 Personalise your sign to your measures. 

We make the design; you do the details. It's essential to us that you will enjoy your sign to the maximum. Depending on the setting you desire and the use of your LED Neon Sign, you can choose all the characteristics, such as the colour, the board shape, and the accessories, such as AC adapter or battery packs, dimmers, etc., and create the sign you always wanted.

💰🌍 Eco-Friendly Brilliance!

Our 'This is Where the Magic Happens' LED Neon Sign combines enchantment with environmental responsibility. Utilising up to 80% less energy than traditional neon signs allows you to bask in the mesmerising glow without burdening the planet or your wallet. Experience brilliance that cares! 💡✨

🛠️🚀 Effortless Hanging Experience!

Installing the 'This is Where Magic Happens' LED Neon Sign couldn't be easier! Equipped with pre-drilled holes and mounting accessories, setting it up is a breeze. Alternatively, choose adhesive pads for a hassle-free hanging experience. Enjoy the added perk of low maintenance, letting you relish mesmerising visual effects without the hassle of constant care. Easy and delightful installation, tailored to perfection! 🔧✨

✨ Let Your Space Shine!

Choose the 'This is Where Magic Happens' LED Neon Sign, and upgrade your space into a magical corner. Made with meticulous attention to detail, this sign offers various vibrant colour options and versatile sizes to suit your taste and fit perfectly to your interior.