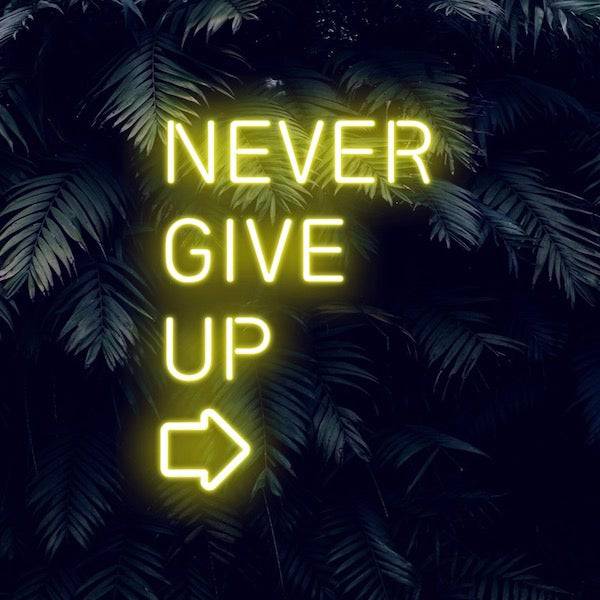 Never Give Up LED Neon Sign - Made in London Inspirational Neon Signs
---
Create positive environments with the LED Neon Sign  - 'Never Give Up'! It's the perfect addition to infuse motivation and positivity into any space. Carefully handcrafted in London with love, this premium sign is made using top-tier LED chips and flexible neon tubes, ensuring a dynamic and captivating display that will inspire.

🔎 And now, the specifics! The 'Never Give Up' sign is expertly designed on a sturdy 8mm acrylic board, making it lightweight yet built to endure. With a range of 12 vibrant colours and various sizes, you can tailor it to flawlessly match your style and decor. 🎨📏

✅ Quality is our thing!

Each of our signs undergoes rigorous quality control procedures to ensure you receive a top-notch LED Neon Sign. 🏆

🤔 Precision cut or full-board layout?

The decision is yours! The 'Never Give Up' LED Neon Sign is available in both variations. Opt for a cut-to-shape design for a personalised touch or the full-board option for a clean and timeless aesthetic. The choice is yours! 🔲✂️

🔌 Personalise and create your dream arrangement with our diverse array of accessories!

Whether you prefer managing your sign using a Wi-Fi controller or a remote dimmer to set the perfect mood or utilising an AC adapter or rechargeable/non-rechargeable battery pack, we provide all the choices to bring your vision to life and simplify things. 💡⚡

💡Shine brilliantly while caring for our planet.

Our 'Never Give Up' LED Neon Sign is energy-efficient, consuming up to 80% less energy than conventional neon signs. This means you can relish the mesmerising radiance while keeping your energy expenses in check. It's a win-win situation! 💰🌍

🔧 Concerned about installation? No need!

Setting up the 'Never Give Up' LED Neon Sign is a breeze. It arrives with pre-drilled holes and mounting accessories, or you can opt for adhesive pads for an effortless hanging experience. Easy as can be! 🛠️🚀

✨ So, why wait any longer?

Elevate your surroundings into a vibrant haven with the 'Never Give Up' LED Neon Sign. With its top-tier craftsmanship, vibrant colours, flexible sizes, and straightforward installation, this sign will elevate your space's atmosphere. Embrace the 'Never Give Up' LED Neon Sign today and leave a lasting impact with its captivating brilliance.