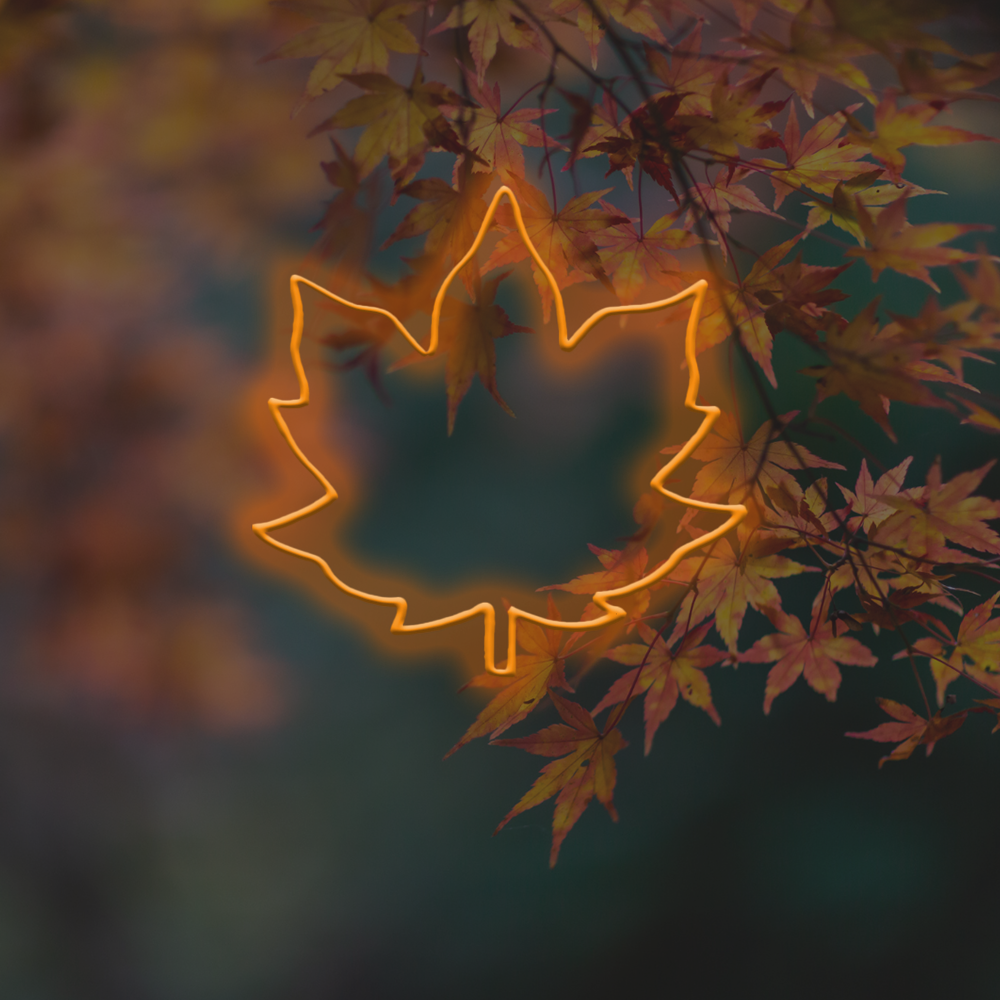 Maple Leaf - Autumn interior LED Neon Sign Made In London
---
Get into the autumn vibes with the ' Maple Leaf' LED Neon Sign. 🍁

This Maple Leaf is perfect for any autumn-themed decoration; you can create ultra-cosy corners just by turning this sign on. The autumn hues, Flawless Green, Scarlett Red, Foxy Orange, Honey Orange and Sunshine Yellow, in combination with the design, will give you the sense that you are in a rainy forest in an autumn scenery.

And now into the details wonder-fall details 🍂

This 'Maple Leaf' LED Neon Sign is made in our London-based warehouse. This sign, similar to all our signs, is made of an 8mm acrylic board that acts as a base, making the sign lightweight yet durable to last a lifetime. Combined with the LED chips and the neon tube, you get a top-quality product that will light up the space. 

You are lighting up your space worry-free. 💡

This maple leaf sign, similar to all our LED Neon Signs, is energy efficient compared to traditional neon tubes, which makes it easier for your pocket and better for the planet. 


Create the perfect setting just for you. 🎛️

You can create the perfect setting as you imagined by choosing from our wide accessories selection. You can choose between Wi-Fi dimmers or remote dimmers, AC adapters or battery packs, rechargeable and non, the decision is yours. Plus, you can customise your board shape to fit perfectly in your personal space. You can choose between a whole board for a classic cut or cut-to-shape for a more jazzy result. 

Installation in the blink of an eye 👀

You can simply install your sign in seconds by plugging it on the power supply you choose before checkout. For your sign's placement, you can choose between pre-drilled wholes and mounting kits or adhesive pads for a hassle-free experience.

So what are you waiting for?

Get your house Autumn-ready with this simple but beautiful 'maple leaf' LED neon sign.