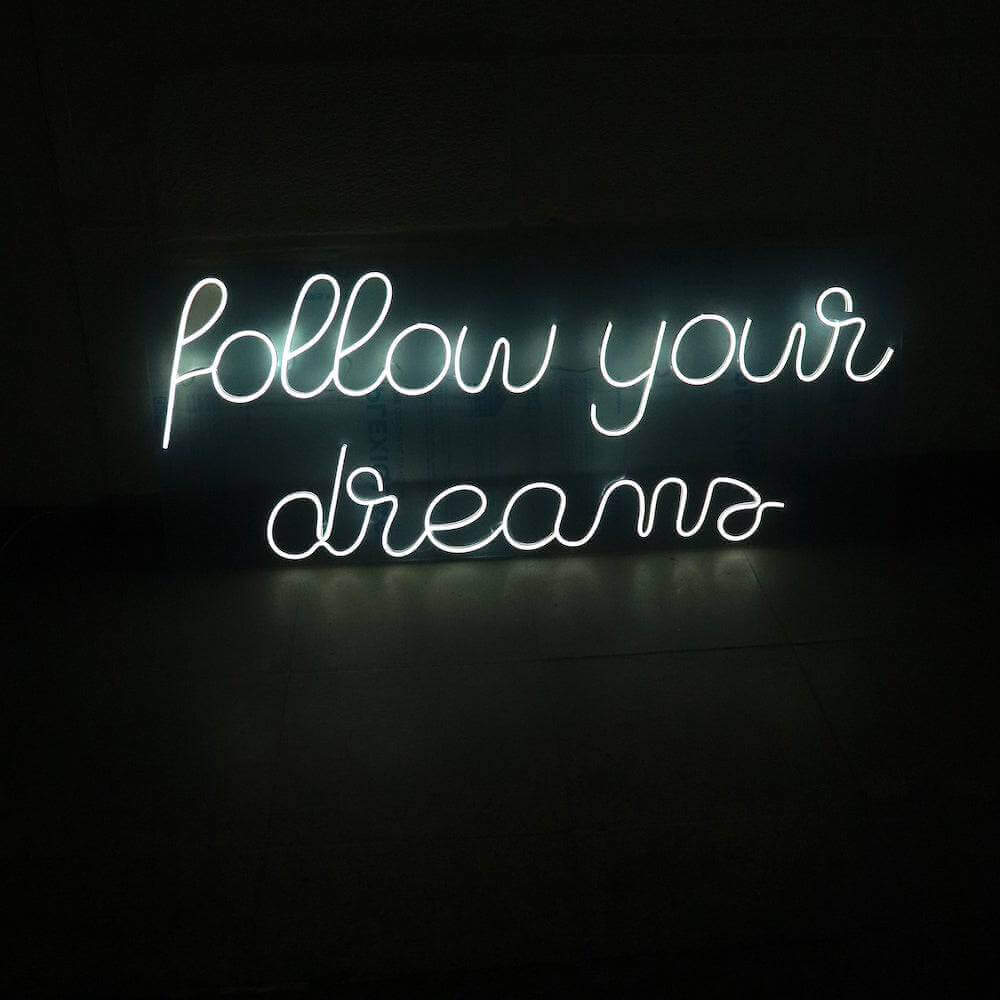 Follow Your Dreams LED Neon Sign - Made in London Inspirational Neon Signs
---
Convert your space into a vibrant positive environment with the 'Follow Your Dreams' LED Neon Sign.  It's the perfect addition to create a relaxing and ambient atmosphere in any room. Hand-made in London with love and care, this high-quality sign is crafted using high-quality LED chips and rubber neon tubes, ensuring a vibrant and eye-catching display that transforms any space into a positive environment. 🤩🌈

💡Time for an in-depth exploration. 

The 'Follow Your Dreams' sign, is meticulously crafted on an enduring 8mm acrylic board, making it a breeze to carry and built to withstand the test of time. Enliven your surroundings with a spectrum of 12 captivating colours and an assortment of sizes, empowering you to tailor it precisely to your preferences and interior ambience. 🎨


✅ Expect nothing less than perfection with us!

Rest easy knowing that we leave no stone unturned in our commitment to quality. Our signs are meticulously inspected through a stringent quality control process, ensuring you receive the utmost satisfaction. ✨


🤔 Cut-to-shape or whole-board design you can choose what's best for your space.


The 'Follow Your Dreams' LED Neon Sign is available in both options. Go for a cut-to-shape design to add a personalized touch, or choose the whole board option for a clean and classic aesthetic. 🔲✂️


🔌 Create the ultimate setup that matches your vision perfectly, as you explore our comprehensive collection of accessories designed to fuel your productivity and passion.

With a variety of different accessories such as Wi-Fi controllers, remote dimmers, AC adapter or battery pack (rechargeable or non-rechargeable), we've got all the options to create the perfect set-up. 💡🎛️⚡


💡 Energy efficient.

Our 'Follow Your Dreams' LED Neon Sign is energy-efficient, using up to 80% less energy than standard neon signs. That means you can use your sign without any limits, carring for the environment at the same time. 💰🌍

🔧 Installation, at the blink on an eye!

Installing the 'Follow Your Dreams' LED Neon Sign is super simple. You can choose between with pre-drilled holes and mounting accessories, or you can simply use adhesive pads for a hassle-free hanging experience. You just connect your sign to the electric power and enjoy the beautiful lighting.

✨ So what are you waiting for?

Transform any space into positive environment with the  'Follow Your Dreams' LED Neon Sign. With its high-quality characteristics, vibrant colours, adaptable sizes, and easy installation, this sign is guaranteed to enhance the ambience of your environment.