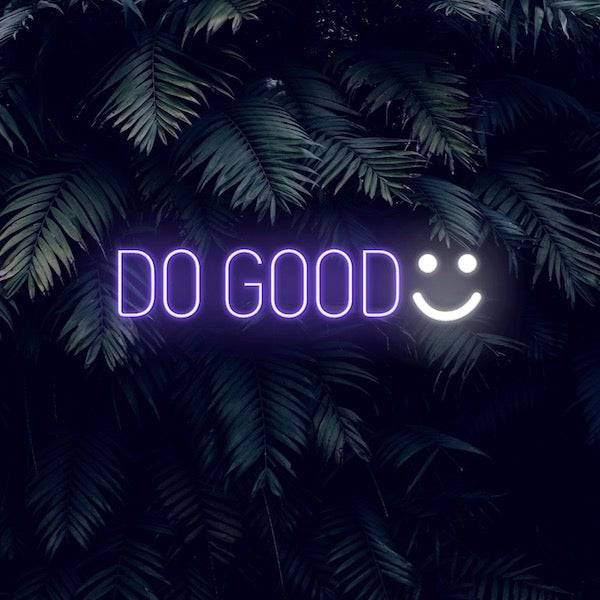 Do Good LED Neon Sign - Made in London Inspirational Neon Signs
---
💡 Decorate your space with our LED Neon Sign - 'Do Good'! It's the perfect addition to infuse positivity and kindness into any space. Meticulously crafted in London, this remarkable sign is expertly made using premium LED chips and flexible neon tubes, ensuring a captivating and dynamic display that encourages acts of goodwill.

🔎 And now, the specifics! The 'Do Good' sign is carefully designed on a durable 8mm acrylic board, balancing lightweight construction and enduring strength. With our customisation options such as the 12 vibrant colours and the different sizes, you can customise this sign and make it fit perfectly in your personal space and interior. You can also opt for a cut-to-shape design for a more detailed result or a whole board for a classic cut. The choices are yours. 

✅ Quality is our top priority!

Every single one of our signs undergoes thorough quality control procedures to ensure you receive an LED Neon Sign of superior Quality. 🏆

 

🔌 Personalise and create your ideal setup with our wide array of accessories!

Whether you want to control your sign's lighting using a Wi-Fi controller or a remote dimmer to set the perfect mood or employ an AC adapter or rechargeable/non-rechargeable battery pack, we offer a comprehensive selection to bring your vision to life and simplify the process. 💡⚡

💡 Shine bright and 'Do Good' for the environment 

Our 'Do Good' LED Neon Sign is energy-efficient, consuming up to 80% less energy than traditional neon signs. This allows you to enjoy its cheerful glow while keeping your energy consumption in check. A win-win scenario for both you and the planet! 💰🌍

🔧 Worried about installation? Please don't!

Installing the 'Do Good,' LED Neon Sign is a piece of cake. It arrives with pre-drilled holes and mounting accessories, or you can opt for adhesive pads for a hassle-free hanging experience. Plus, our LED Neon Signs are designed to be low-maintenance, enabling you to enjoy captivating visual effects without needing constant upkeep. Effortless and convenient! 🛠️🚀

✨ So, why wait any longer?

Choose the 'Do Good' LED Neon Sign today and leave a lasting impression with its captivating brilliance, inspiring everyone to make a positive difference.