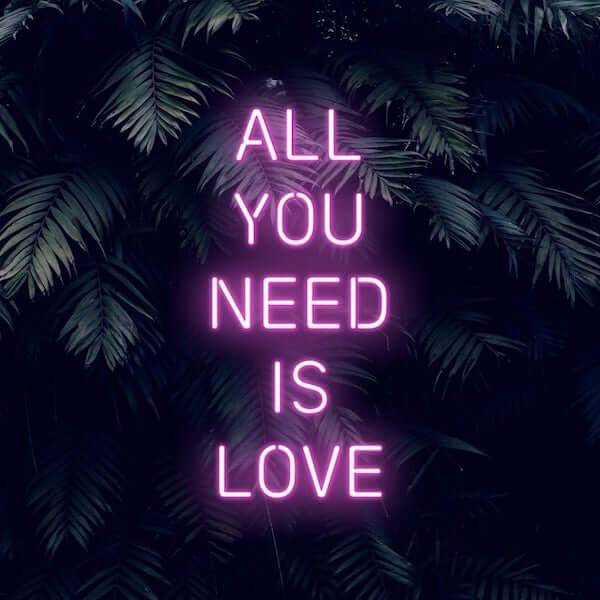 All You Need Is Love Caps LED Neon Sign - Made in London Inspirational Neon Signs
---
All You Need Is Love, and this LED Neon sign as a reminder 😁 Experience the profound power of love with this uplifting and positive quote illuminated in your very own home!

🖋️ Let's talk about the details.

This "All You Need Is Love" LED Neon Sign was crafted in our London warehouse by our skilful team with love and care. Using top-quality products and prowess the final result will surprise you. 

✅ Quality is everything.

Combining an 8mm acrylic board as the backboard for durability, and top-quality LED chips together with rubber neon tubes, we have the stunning result of this LED Neon Sign.

🔧 Pre-designed LED Neon sign but with customisation options.

Even though we have this sign pre-designed for you, you can customise it and order it to measure to fit perfectly in your space and liking. It comes in 12 different vibrant colours, different backboard colours, cut-to-shape or whole-board options. The possibilities and combinations are endless.

🌈 Additional setting to reach perfection.

You can pick and choose different settings for your sign, depending on the use of it. Choose from AC adapters and battery packs, Wifi and manual dimmers, you can pick the one that's gonna make your life more simple and let you enjoy your sign even more. 

🌎 🌱Planet-friendly

Our 'All You Need Is Love Sign' Similar to all our signs, is planet-friendly and energy-efficient, using 80% less energy compared to traditional neon signs.

🔩 Effortless Installation. 

Simply choose pre-drilled wholes and mount kits or adhesive pads on the checkout end enjoy your sign a few minutes after receiving it, thanks to a hassle-free hanging experience!

💻 So... What are you waiting for?

💖 Infuse your space with love and positivity with our "All You Need Is Love" LED Neon Sign! Simple, fast, cost-effective, it will change your space and uplift your mood instantly.