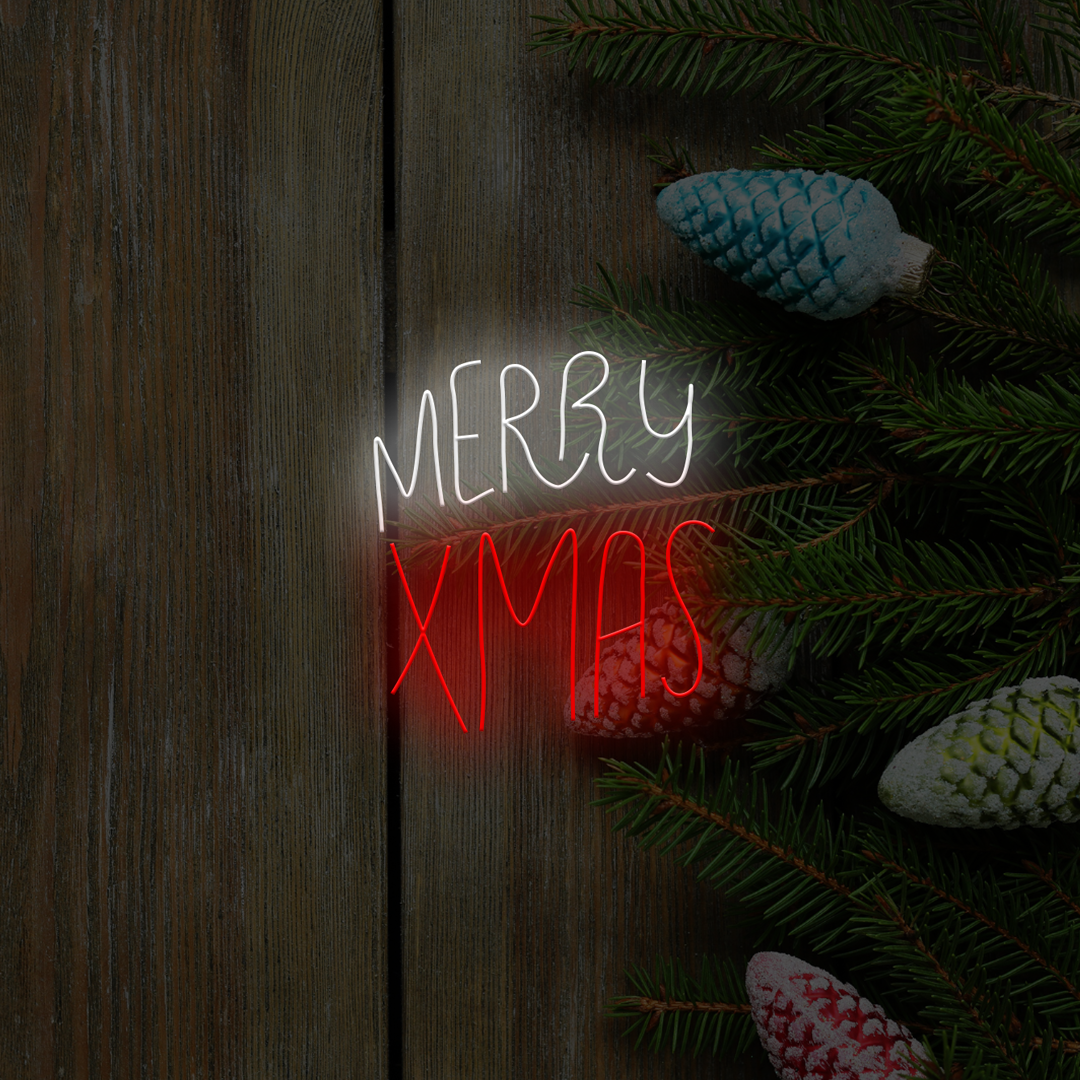 Merry Xmas LED Neon Sign - Made in London Christmas Neon Signs
---
🌟 Welcome the holiday season with the "Merry Xmas" LED neon sign.

Whether you're treating yourself or searching for the perfect gift for your loved ones, our custom neon signs will surely bring joy to any room. 🎁💖 From personalised LED Neon Signs to pre-made designs, we've got you covered! Let the holiday spirit shine! 🌟✨

Crafted with love and care right here in London by our team of skilled and dedicated artisans, each sign is a true work of art. You can trust our unwavering commitment to quality, ensuring your sign arrives at your doorstep in nothing less than perfection. 🎨🇬🇧💖✨

Designed using our top-of-the-line I LumoS Neon Strip Lights, created from premium LED chips, our signs are built to stand the test of time. We're talking about unmatched durability! Rest easy knowing that only the finest strip lights go into crafting your unique masterpiece. 💪💡✨

Our neon signs are as robust as they come, featuring durable acrylic and a solid 8mm thickness while lightweight at the same time.

Prepare to personalise your sign to perfection with our wide range of accessories. 🛍️✨ You can choose between Wi-Fi controllers that allow you to adjust the lighting from anywhere in the world using your phone or convenient attachable rotary dimmers to create the perfect ambience.

No need to worry about plugs – we provide options to suit your preferences! Opt for a standard AC adapter with a UK plug or a battery pack for portable convenience. And the icing on the cake? We've even included the batteries to sweeten the deal. We've got all your Christmas needs covered! 🔌🔋✨

Place your order with Planet Neon and prepare for a generous dose of holiday magic to arrive at your doorstep. 🎁✨ With tracked delivery, you can rest assured that your neon sign is in capable hands. 🚚🇬🇧

Upon arrival, all it takes is a simple plug-in or a quick button press to illuminate your space and share the Christmas cheer. 🎉✨ Grab your favourite festive beverage, sit back, and enjoy the Christmassy vibrance of " Merry Xmas" LED Neon Sign.